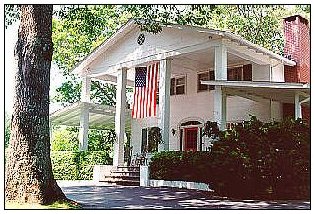 Colonial Pines Inn, Vacation Accommodations in Highlands, NC
Beginning as a small cabin with a sweeping view, Colonial Pines was once home to the McKinneys, the Piersons, and the Cleavelands, many of whose descendents still live in Highlands, North Carolina. When you visit the Inn, you can see a photo of the view from 1908 - there were not many trees!
Each family left its mark until the house was finally a two story structure facing South with four bedrooms, one bath, a parlor, dining room, and kitchen. Teachers, stone masons, and real estate investors by trade, the families also at times operated a laundry, a beauty shop, and a woodworking shop on the grounds. Especially then, it took more than one income to live in the mountains.
In 1961, an energetic lady from Florida, Irene Coal Parr, bought the property and turned it into a guest house, facing it East and adding the wrap-around porch, colonial facade, multiple bathrooms, an owners quarters, and a new kitchen. At first she named it Parr's Guest House, then more appropriately, Colonial Pines Inn.
Eleven years later Irene went back to Florida (probably exhausted) and sold to Florence & Johnny Lupoli, teachers from Miami. Known for their warm hospitality and for being the only place with adequate heat for the (then) harsh winters, they ran it as a tourist home. No formal meals were served but they would often graciously invite guests to have supper with their family.
In 1984 Chris & Donna Alley (that's us) needed an escape from Atlanta, and bought the Inn after looking at it for half an hour. We knew this was the place we wanted to be. After thirty years, we've raised two daughters and cracked about 150,000 eggs and we're still counting!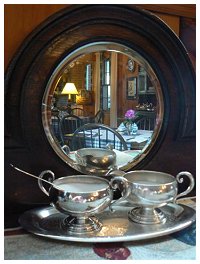 With our backgrounds in interior design, contracting, and woodworking, we hope you enjoy the meticulous attention to detail we have put into each room and cottage. Four bed and breakfast rooms are in the main building and a bargain-priced fifth room is in the guest house building. All include private baths, unlimited refreshments from our guest pantry, and of course our hearty, homemade breakfast which some say is the best in town.
Adjacent to the Inn, The Guest House Apartment is a two bedroom efficiency, colorfully furnished and perfect for small families. Miss Rebecca's Cottage, ¾ mile from the Inn next to the Sunset Rocks Trail, is a three bedroom, two bath historic home with a great room, full kitchen, and stone fireplace. Both cottages are available for short or long term rentals.
Throughout your stay, feel free to rock on our breezy veranda, relax by our cozy fireside, stroll the lawns, and visit the berry gardens. You can sample the raspberries, blueberries, and black currants before they find their way into our homemade preserves which are available for purchase along with our cookbooks.
We're happy to help with complete information on Highlands' famous shopping, dining, and cultural events. We'll also give you maps and directions to waterfalls, hiking trails, nature areas, and many other activities. After your outing, come back up the hill to Colonial Pines where warmth and hospitality await and you will be welcomed, like family, back home.
We hope to see you soon in the mountains!


Chris & Donna Alley
Innkeepers Since 1984
---