See our Five-Star Reviews on Trip Advisor!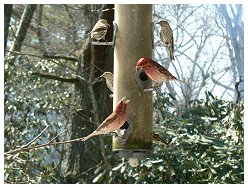 The veranda on this stately old farmhouse-turned-inn may be the widest in the Highlands area. The view of mountains from its porch swings and rockers, and its two acres of lawn, shaded by great spruce, hemlock and pine, give this in-town inn an air of seclusion. - Rusty Hoffland, A Guidebook to Mountain Getaways in Georgia, North Carolina and Tennessee.
This is a truly marvelous inn tucked away in one of the prettiest towns of the Blue Ridge Mountains. The atmosphere is very cozy and warm, with great attention to detail. Best of all, hosts Donna and Chris Alley are friendly and helpful. - Claire Petsch, America's Wonderful Little Hotels & Inns.
The birdfeeder outside has developed a steady clientele of hummingbirds and sometimes in the evening, Alley plays his classical guitar on the porch for the guests. - The Greenville News
A warm, intimate common area has games and comfortable seating in front of a fireplace, and a pantry filled with snacks is accessible to guests. - Debra Merin, The Tampa Tribune-Times
The Colonial-style home has a two-story porch on three sides and features three suites and three rooms in the main house. The rooms are decorated country elegant with beautiful antiques. The guests who come to the Colonial Pines Inn come because it's like home. They come because they are treated special. - Clifton Daniel, Wilmington Morning Star